News
12.05.2020
AMAC participates in new Interreg project AACOMA
New 3-year Interreg project AACOMA is kicked off: The Euregio Meuse-Rhine is a potential hot-spot for the further development of advanced material and process technologies. Technical Centers and Institutes around Aachen/Germany, Liège/Belgium and Eindhoven/The Netherlands were awarded with this new project AACOMA. Innovative material design and advanced manufacturing provide large opportunities for SMEs. The AACOMA project kick-off took place in Aachen at the Campus of the RWTH University of technology in 1 Q 2020. The aim of the project is to connect SMEs with innovation hot-spots like institutes and technical centers. Seven partners from all three regions will carry the project out: Centexbel is the project leader and gets support by University of Liège, Sirris and Flanders Make from Belgium, as well as Fontys. Please find the related press release here.
07.05.2020
LV 2025 Hydrogen Composite Pressure Vessels Meeting in Belgium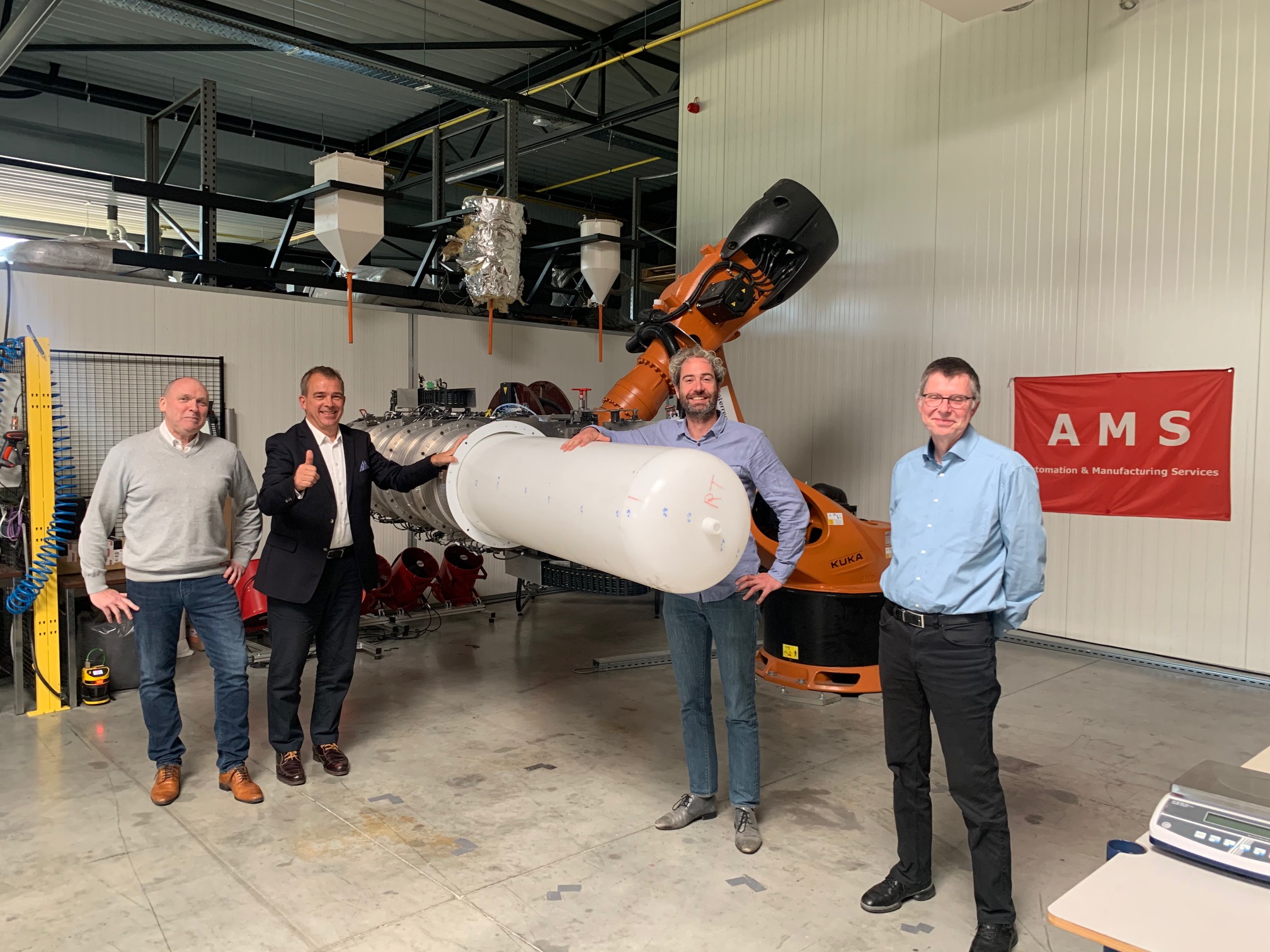 A team meeting on the INTERREG LV2025 (
www.lightvehicle2025.eu
) took place this week at AMS In Bilzen/Belgium. In this project, the team is developing a Hydrogen Composite Pressure Vessel using thermoplastic liners made with the AMS robomolding technology. The partners
AMS
,
2C Composites
and AMAC were visiting live in Bilzen, whereas the other partners
Mitsubishi Chemicals,
Plastic Omnium
and
Conbility
were connected
by video conference. The results of this demo project will be presented on the 1st Roadshow event on September 24, 2020 in Campus of the RWTH Aachen University at the ITA Institute. (More information will follow). The AMS technology can even be used in the future to make complete body panels like to cars like the E.Go.
20.04.2020
Strategic partnership AMAC and REACH GROUP China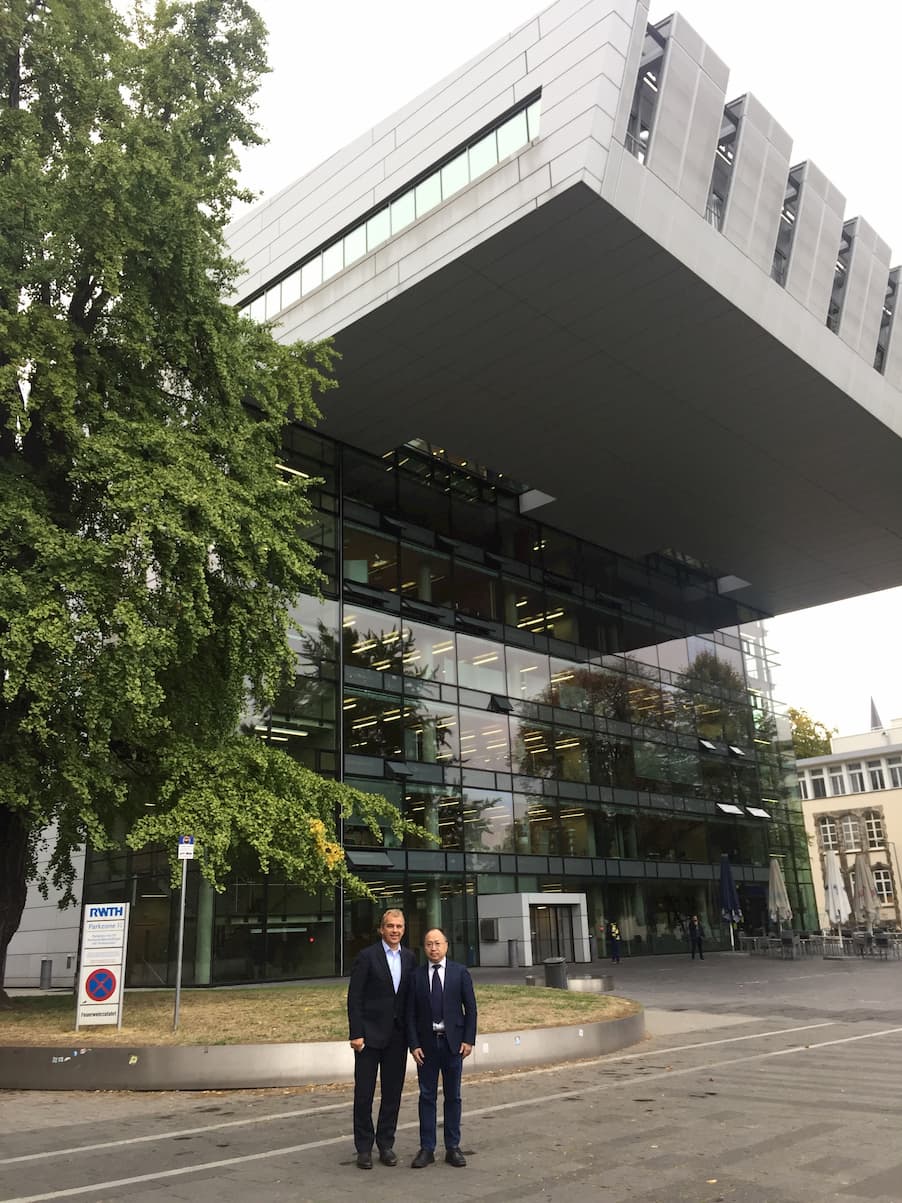 A close cooperation, especially in difficult times like the Covid-19 crisis, is essential for sustainable success. Today, Reach Group/China and AMAC/Germany signed a cooperation agreement to strengthen their business between China and Europe in the field of advanced materials and composite machine technologies. Detailed information can be found in the press release, following this link.
26.02.2020
Meet the AZL at JEC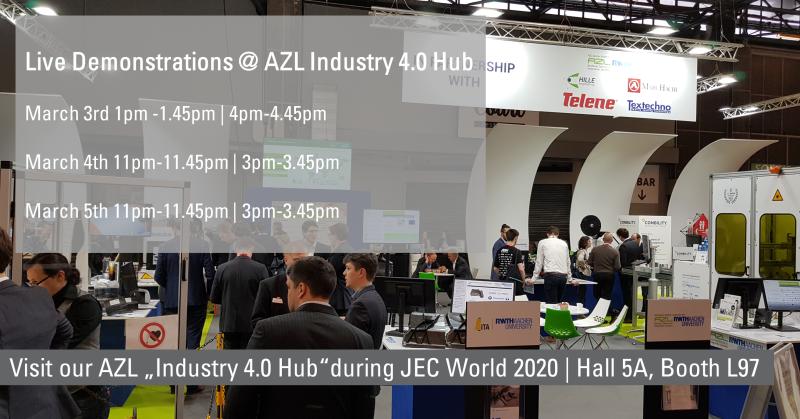 We are looking forward to meet you at the AZL "Industry 4.0 Hub" @JEC in Hall 5A, booth L 97. On about 300 sqm at the JEC World 2020, AZL, our partner institutes and industrial partners showcase their innovative composite technologies and products along the whole composite value chain. From tape laying, RTM, SMC, to filament winding and laser material processing you will be able to find the composite technologies and systems developed on campus. We will hold two live demonstrations a day on our processes, machines and technologies and would be happy to have you with us.
03.02.2020
Successful Automated Kiting Demonstration Day at Airborne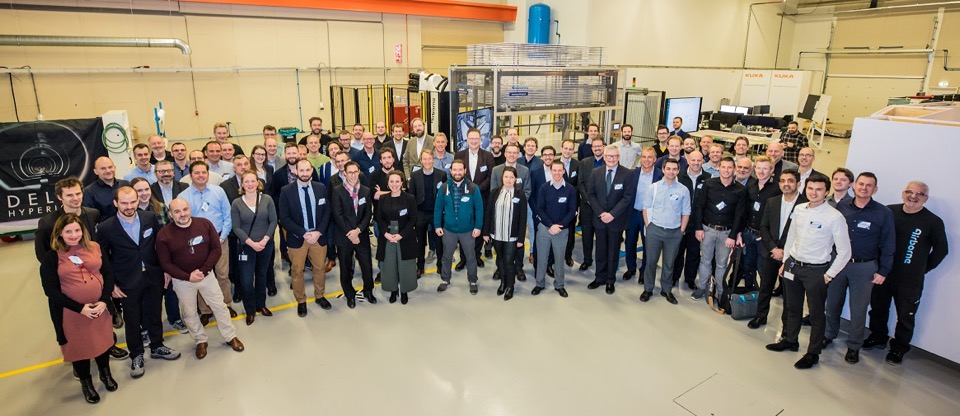 On January 29th, Airborne held an Automated Kiting Demonstration Day, welcome 19 companies from Europe, North America and Australia at Airborne's Headquarters. We appreciated the opportunity to address this unique forum of industry experts with our latest thinking on composites automation and digitalization. Also, it was a great pleasure to hear from Pim Tamis, Factory Automation Manager at GKN-Fokker, about the adoption of Airborne's Automated Kitting solution at their Hoogeveen facility to support four different programs requiring cutting and kitting of plies from 55 different materials. Short brochures are available on KITTING, HONEYCOMB POTTING and LAMINATING. Please contact us for further information: amac-communicationsnothing@effing-aachen.de