Reach
Strategic Cooperation in Advanced Materials and Composite Machine Technologies between REACH Group/China and AMAC/Germany
A close cooperation, especially in difficult times like the Covid-19 crisis, is essential for sustainable success. Today, Reach Group/China and AMAC/Germany signed a cooperation agreement to strengthen their business between China and Europe in the field of advanced materials and composite machine technologies.
Reach Group based in Shanghai (Photo 1) is a comprehensive group company present in the composite industry since 1996. AMAC is an expert advisor and business enabler in composite solutions based in Aachen, Germany.
Daniel He, President of Reach Group and Dr. Michael Effing, founder and CEO of AMAC, have a longstanding business relationship in the Composite industry (Photo 2) and want to cooperate in the field of materials on Thermoplastic composites, bio-based materials, materials for additive manufacturing, additives for high performance and in the field of composite machine technologies on tape placement solutions, continuous lamination machines, 3D-printing as well as on advanced automated thermoset processing.
Daniel He stated: "I have a 20 years long term business relationship with Michael in the Glass Fiber Industry. Since last year, we at Reach became through Michael the exclusive agent in China for Tape Placement machines. Michael has supported my customers also as Chairman of AVK German Trade Association for Reinforced Plastics. I am looking forward to expanding our cooperation especially in these difficult times of the crisis."
Michael Effing replied: "REACH Group and AMAC will support business between China and Europeboth ways- and will link the business and research community inviting partners working together globally. Daniel He and his team have a tremendous network in the Chinese Composite Market to top executives and we are looking forward to presenting our cooperation at the next China Composite Expo on September 2-4, 2020 in Shanghai."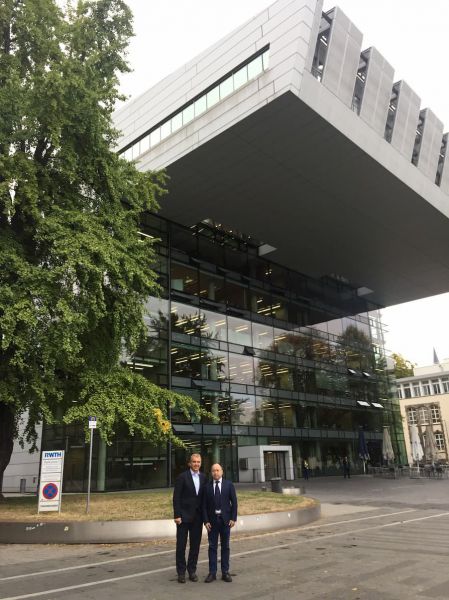 About REACH Group
Reach Holding Group (Shanghai) Company Limited (Abbreviated as "Reach Group"), headquartered in Shanghai China, is composed of three main business segments: international shipping and logistics, international trading and representation, and investment and operation of hotel services. Reach Group has over 24 years of experiences in the composites industries in China since 1996. Mr. Daniel Y. HE, holding MBA, MA and B. Sc degrees, President of Reach Group, has over 24 years of experiences in the composites industries in China since his joining in China Jushi, a leading glass fiber manufacturer in the world, in 1996 and was appointed Marketing Director and Vice President of Marketing and Sales at Jushi before joining in Reach Group in 2015. He was a teacher of English at some universities during the period of 1986-1996 after his college graduation.
About AMAC
AMAC GmbH is an Industrial and Business Consulting Company in the field of lightweight construction materials based in Aachen, Germany. The business model of AMAC is based on three pillars: establishment and development of networking and clusters between universities and industrial companies, excellence in Sales, Marketing and Business Development as well as management of industrial projects in the field of innovations and commercialization. Dr. Michael Effing is Chairman of the board of the trade associations Composites Germany and AVK.